Saturday, March 29, 2008 • 2:51 AM



Just finished helping
Geraldine!
create her Habbo Blogskin. Waiting for her to create her URL but I'm sure it'll be good, as in the blog. Soon, I can start my own Habbo Group of Habbo Bloggers! Muahahaha, and yes
Jabb
is joining us in becoming a Habbo Blogger too! YAY! :D
Oh and while cloning
Geraldine!
to take screenshots, she came into the room and soon after,
Jabb
too. And he decided to dress like her too so this is the result: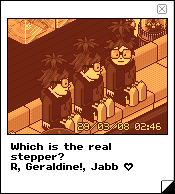 Habbo Steppers!
God Bless Everyone! :D