Monday, March 31, 2008 • 4:50 PM
For those of you who don't already know, Version 21 is here on Habbo SG. Together with a lot of weird functions like the "Event thingy" and smaller Volume Button and CFH Button. But what I like most is the Mood Light because it's quite funky.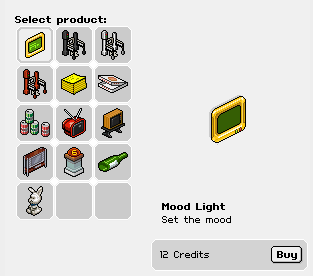 Unfortunately, it costs a bomb here unlike Habbo UK which costs only 8 credits.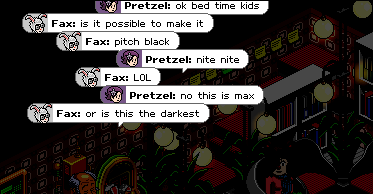 I was in
Pretzel
's room, bedtime~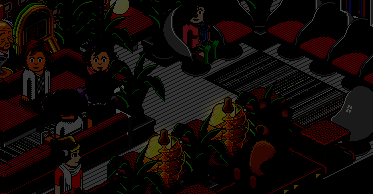 Haha, I love the mood light :)
God Bless Everyone! :D
• 3:21 PM
Because Habbo SG was down, I went to visit Habbo JP again today. Went to my room to slack because I was rather bored. Awhile later,
kairi.
came and asked me whether I wanted a teleport in my room. I said, sure and then she dropped a Wardrobe Teleport. The other teleport leads to her new room, which she was creating.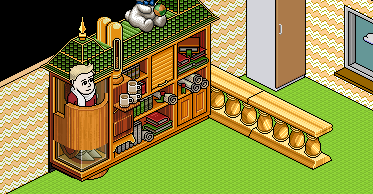 The people in Habbo JP are so innovative because even the most useless of Furnitures are turned into something useful.
The end product, pretty ya?
God Bless Everyone! :D
Saturday, March 29, 2008 • 11:18 PM
Blogger hates me and won't me upload my photos in bulk so all my photos now are uploaded in Photobucket (starting with the second post by the way).
I used to come to the Rooftop Rumble very often because of the pool and the games. I remember on Habbo UK, I always wanted to play Wobble Squabble but I had no credits. Now on Habbo SG, I have the chance but I seldom play it because I lose half of the time and I don't like wasting my credits on tickets :(
Here we have
-=HoT-FuDgE=-
bullying all the noobs including me. I won her twice though, but I still feel sad.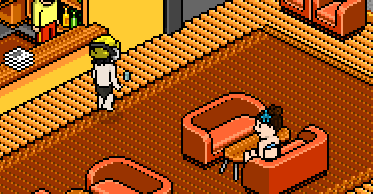 Isn't it strange how Habbos don't hold their cups while walking? Magic! Woo!~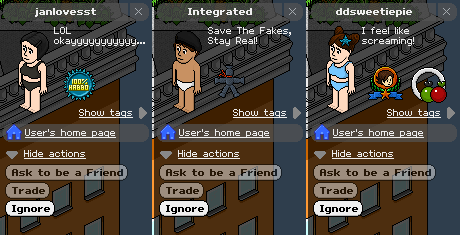 It's the SWIMSUIT edition!
janlovesst
,
Integrated
and
ddsweetiepie
. Hot babes and hunk!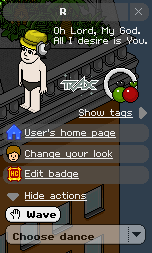 I am not hot! I feel so sad, just kidding haha :)
God Bless Everyone! :D
A less personal version of this post can also be found here, on HabboLitez! Drop your comments there! :)

• 2:51 AM



Just finished helping
Geraldine!
create her Habbo Blogskin. Waiting for her to create her URL but I'm sure it'll be good, as in the blog. Soon, I can start my own Habbo Group of Habbo Bloggers! Muahahaha, and yes
Jabb
is joining us in becoming a Habbo Blogger too! YAY! :D
Oh and while cloning
Geraldine!
to take screenshots, she came into the room and soon after,
Jabb
too. And he decided to dress like her too so this is the result: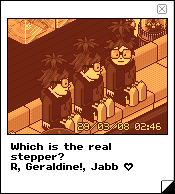 Habbo Steppers!
God Bless Everyone! :D
Friday, March 28, 2008 • 5:14 PM
I woke up early this morning and decided to go on Habbo JP. To my surprise,
Brown@
and
kairi.
were online. Then I decided to move my Habbo Furnitures to my new account which was
"★R"
:D
I really love how you can type stars and music signs into your username, even other stuff. How I wish Habbo SG allowed us to do.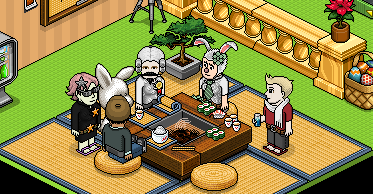 Then
kairi.'s
friends came over and we having a chat session.
Oh! Have you seen my new wallpaper? It's awesome, thanks to
kairi.'s
friend, the girl in white.
Isn't my room so pretty now? :) Oh there's Brown@ by the side, with her Habbo Guide badge.
And here we have her in Singapore. Oh ya, I converted my
East
group to
HABBORINGO.SG
:)
We all headed to Habbo SG for the SG-JP eXchange event hosted by
freedomkid
called
"Raining Furnitures"
, it was fun :)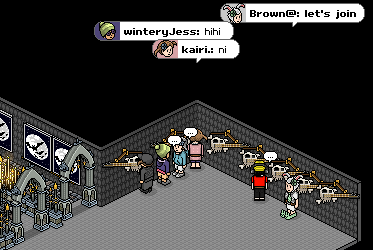 Here we have everyone standing by the walls, waiting for the game to start.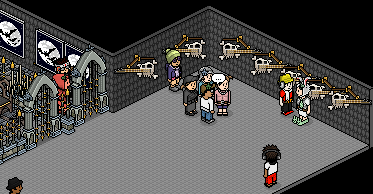 Still waiting, and there's
kazu.I
talking :)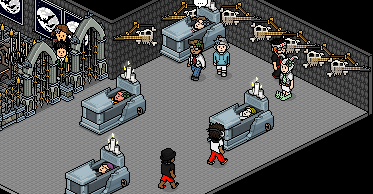 And finally it begins..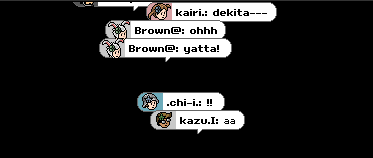 The Habbos from Habbo JP getting really excited.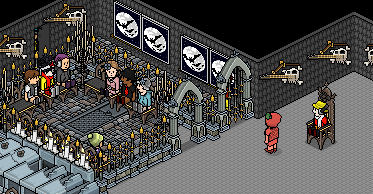 I won eventually, stupid
Tomatoho
didn't win hehe.
Later, we went to the Theatredrome for the SG-JP eXchange event, something about getting to know the Habbo JP Community Manager,
VIPER1977
better.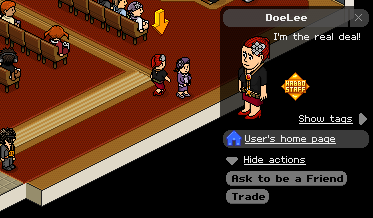 Here we have
DoeLee
strutting in like a real lady.
And here's
VIPER1977
! Konnichiwa!
And after a public announcement, Habbos started coming in like ants..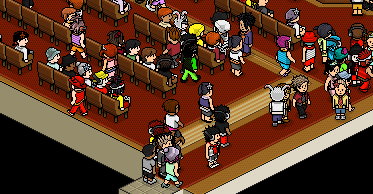 Try to spot
.chi-i.
in her new HC outfit. Oh! and
Geraldine!
and I.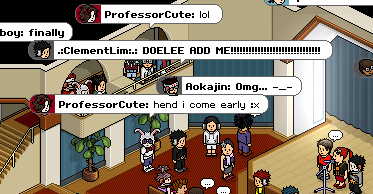 What would a public event be like without the spammers..
And the interview begins!

Interesting to know how he speaks such good English :) Gambatte
VIPER1977
!
And then we had like an event where the
"Best Ninja Outfit"
and
"Best Ninja Motto"
wins a prize.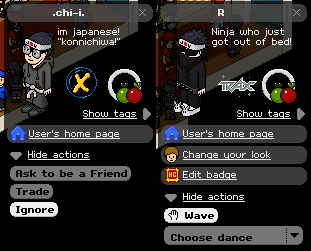 Yup, you guessed it! We decided to participate! :) But we didn't win anything.
Yay, I had so much fun!
God Bless Everyone! :D
This post can also be found
here
on HabboLitez! Drop your comments there! :)
• 1:31 AM
I've been on Habbo Japan a lot lately. It seems like the Habbos there are really friendly. Today, I happened to chance upon this room created by
SEVILL
and everyone there was speaking in English. Which was a good for me.
Really had fun, everyone's really great. Especially my new Japanese-who-speaks-English friend.
I don't know how you type her username in Japanese but her name is Riru. Nice name haha, oh and she told me her email address and her personal details so we could keep in contact haha. I guess that's kind of illegal but since I don't live in Japan I guess it's okay for her. Nice person haha.
And just in case anyone of you wants to see my guest room in Habbo Japan:
All of my Habbo Furnitures were given to me by
kairi.


Yatatami mats, Irori and Poinsetta! Oo, and a Tatami mat below the Irori (it's hidden) :D I love Japanese Furnitures! Too bad they're really expensive on Habbo SG (not they're any cheaper here on Habbo JP but I think you get my point!) I just love every one of those Furnitures! Like the Vase Of Flowers :D
She's a really nice person. And in case any of you is wondering why the walls aren't painted. kairi. wanted to get me some pink or black wallpaper but I guess we kind of chat too much until she had to leave for somewhere and get off the computer. But it's okay, Habbo Furnitures alone are good enough.
Oh and you can also see my Habbo Japan Group there!
HABBORINGO.JP
!
It's a private group created by
kairi.
for Mac users but I guess she allowed me to join because I'm her friend. I love Mac though, so I guess it can be for Mac lovers! Hahaha, here's the group URL if you're interested anyway:
http://www.habbo.jp/groups/1621/id
And here's my Habbo Japan Homepage:
http://www.habbo.jp/home/!Ryan
God Bless Everyone! :D
Thursday, March 27, 2008 • 11:38 PM
SHUBBBBBBBBBBBBBBY!
OMG
.:SHUB:.
WHERE ARE YOU?!
I miss you sia :(
• 10:46 PM
Hehe, doing for my friends and HabboLitez a favour:
Auction House with kid22


There will be an Auction House with

kid22

on Friday 28 March, 1900 hours at

HabboLitez lightbulb Auction House

(search

kid22

)!
And here we have in the room, people trying to be funny:
Basbaby
for AUCTION!
God Bless Everyone! :D
• 9:58 PM
Well, cheers to a whole new blog just based on my walk on Habbo alone. So before I start blogging about anything, few thing's you need to know.
I am
R
, yes that's me.
Please drop nice comments on my tagboard.
If you wish for me to link you, I only link Habbo blogs :D
Okay lets begin this post with my trip to Habbo Japan (just in case anything happens to the one on HabboLitez, God forbid!)
Here's one of the first rooms I was introduced to, this belongs to
kairi.
Oh the person with the Habbo Guide badge (which is Habbo X in Japan) is
.chi-i.
and I kind of had the inspiration from
kairi.
to create a similar room to hers on Habbo SG. Quite unsuccessful though because I need about 11 more Area Screens.
miraism
gave me this camera, quite happy when I received it. Later today,
kairi.
made me an entire room. Habbos from Japan are so nice :)
Photo given by
kairi.


Oh and lastly, a message from
miraism
:)
God Bless Everyone! :D