Friday, March 28, 2008 • 5:14 PM
I woke up early this morning and decided to go on Habbo JP. To my surprise,
Brown@
and
kairi.
were online. Then I decided to move my Habbo Furnitures to my new account which was
"★R"
:D
I really love how you can type stars and music signs into your username, even other stuff. How I wish Habbo SG allowed us to do.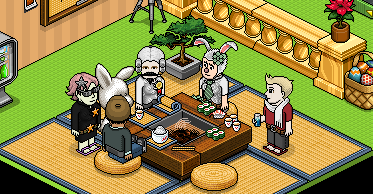 Then
kairi.'s
friends came over and we having a chat session.
Oh! Have you seen my new wallpaper? It's awesome, thanks to
kairi.'s
friend, the girl in white.
Isn't my room so pretty now? :) Oh there's Brown@ by the side, with her Habbo Guide badge.
And here we have her in Singapore. Oh ya, I converted my
East
group to
HABBORINGO.SG
:)
We all headed to Habbo SG for the SG-JP eXchange event hosted by
freedomkid
called
"Raining Furnitures"
, it was fun :)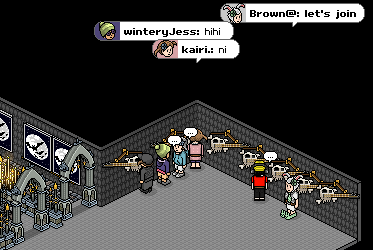 Here we have everyone standing by the walls, waiting for the game to start.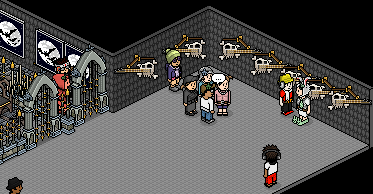 Still waiting, and there's
kazu.I
talking :)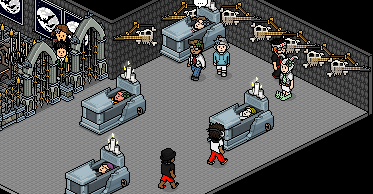 And finally it begins..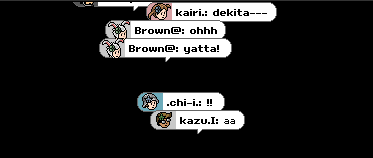 The Habbos from Habbo JP getting really excited.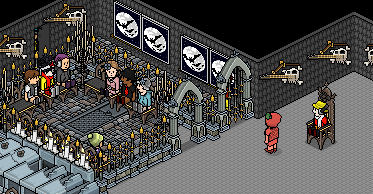 I won eventually, stupid
Tomatoho
didn't win hehe.
Later, we went to the Theatredrome for the SG-JP eXchange event, something about getting to know the Habbo JP Community Manager,
VIPER1977
better.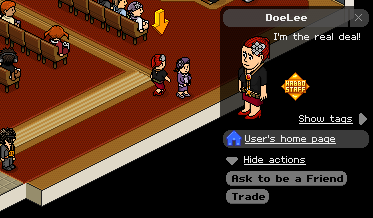 Here we have
DoeLee
strutting in like a real lady.
And here's
VIPER1977
! Konnichiwa!
And after a public announcement, Habbos started coming in like ants..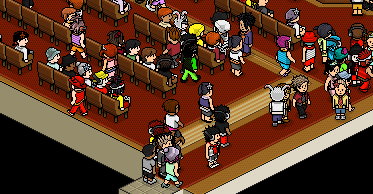 Try to spot
.chi-i.
in her new HC outfit. Oh! and
Geraldine!
and I.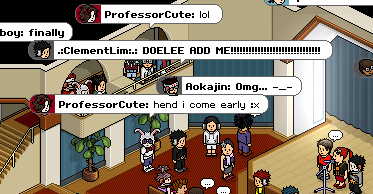 What would a public event be like without the spammers..
And the interview begins!

Interesting to know how he speaks such good English :) Gambatte
VIPER1977
!
And then we had like an event where the
"Best Ninja Outfit"
and
"Best Ninja Motto"
wins a prize.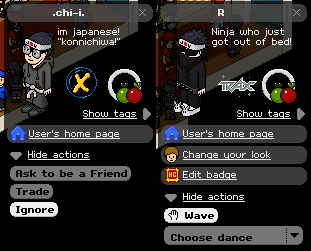 Yup, you guessed it! We decided to participate! :) But we didn't win anything.
Yay, I had so much fun!
God Bless Everyone! :D
This post can also be found
here
on HabboLitez! Drop your comments there! :)