Monday, March 31, 2008 • 3:21 PM
Because Habbo SG was down, I went to visit Habbo JP again today. Went to my room to slack because I was rather bored. Awhile later,
kairi.
came and asked me whether I wanted a teleport in my room. I said, sure and then she dropped a Wardrobe Teleport. The other teleport leads to her new room, which she was creating.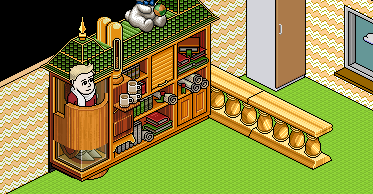 The people in Habbo JP are so innovative because even the most useless of Furnitures are turned into something useful.
The end product, pretty ya?
God Bless Everyone! :D